A collaborative way
to accelerate the development of ideas
PiXii Co-Creation incubator aims to increase collaboration and skills sharing between European digital culture market players through exchanges, hands-on workshops and insightful meetings around international events under the supervision of a expert-mentor.
• Build a transnational network of skills and collaborative projects
• Support international development of European companies in the creative and cultural industries
• Initiate new business models for co-financing innovative projects at an European level.
• Foster international distribution of digital works
• Increase the visibility of digital culture players among themselves but also beyond the sectoral approaches
Theme «Migrations»
According to a United Nations report, there were 281 million international migrants in the world in 2020, that is to say, people settled in a different country from where they were born, i.e. around 3.4% of the world's population, with an average growth of 2.4% pe.
Behind these figures, there are people, journeys, stories… and great opportunities for knowledge sharing and mutual enrichment.
The theme of the first edition of PiXii Co-Creation fully echoes the public debate providing a new perspective on this subject through art and storytelling.
As a result of a call for applications to be launched in March 2021, 12 European and Canadian talents will participate in the PiXii Co-Creation incubator.
Profile required: new media producers, digital artists, digital content producers, installation creators, exhibition designers, creative studios.
Want to participate?
This is the time allocated to provide participants with an invaluable support in terms of expertise in the field of audiovisual development, interactive storytelling, international networking, cultural innovation and content distribution.
The first workshop organized by Creatis in Brussels (Belgium) will focus on ideation on the thematic and foster creative discussions between the selected candidates and lead to the constitution of transnational teams.
The second workshop will be carried out by 2K Films in Thessaloniki (Greece) and will be hosted by a partner museum. It will focus on storytelling aspects and funding opportunities.
Sunny Side of the Doc will host the third workshop around its 2022 edition in La Rochelle (France), and will host a pitching session with international decision-makers representing museums, cultural institutions and other heritage sites.
The duo of mentors of PiXii Co-Creation will offer their expertise to the participants throughout the whole co-creation process: storytelling, immersive technologies, ergonomics of co-creation,collaborative development and concept prototyping (PoC).
Mentor #1
Juliette Bibasse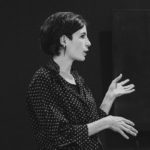 With a background in artistic direction, Juliette has a taste for simple and stripped down aesthetics.  Since 2009, she has been applying her skills to the digital art scene, creating connections and opportunities between artists, festivals and cultural actors.
As an artist's producer, she collaborates on a wide range of projects : digital art festivals, installations, sculpture, commissions for private events, … She represented several international artists for their existing projects as well as new creations. She is now the head of Studio Joanie Lemercier.
Since 2016, she has been working as an independent curator for several festivals and cultural institutions, in 2019 & 2020, as international curator for STRP festival in Eindhoven. In 2020 she is curating a new light parcours for the city of Leuven in Belgium.
Based in Belgium since 2013, she has been an active member of The Federation Wallonia-Brussels' digital arts scene.  In 2019 she co-founded SALOON Brussels, an international network for women working in the art scenes.
instagram: https://www.instagram.com/juliettebibasse/
Twitter: https://twitter.com/jbibasse
SALOON Brussels: https://saloon-brussels.be/
Mentor #2
Edouard Meier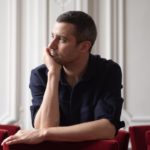 Graduated from the Institute of Political Studies in Strasbourg, Edouard Meier began his career at the European Parliament in Brussels in 2004 with the Vice-President of the European Parliament. In the framework of the Culture Committee, he monitored the issues of regulation and financing of European creation and contributed to the creation of the Lux Prize, the European Parliament's prize for cinema.
In 2009, he decided to develop his knowledge of the public mechanisms by applying them to the issues of Belgian and European creative entrepreneurs. As part of this association, he is now CEO of pali pali, a group of companies based in Brussels-Capital. pali pali is designed as a platform to help creative and tech entrepreneurs. The company provides working spaces (See U, Creatis) and project management (School 19, Maltem #Techforgood Initiative, KissKissBankBank, Hey!).
Edouard Meier is also one of the founders of the contemporary art fair Poppositions and teaches the "new models of creative economy" at IHECS in Master in Sociocultural Animation (Master 1 and 2).